By Elizabeth S. Craig, @elizabethscraig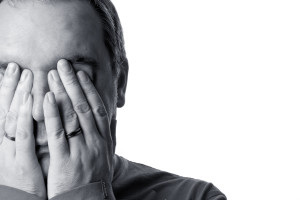 Journalist Porter Anderson had an interesting article in Thought Catalog: "Author-Editor Relationships: An Endangered Species?" In it, he says:
"One of the things that makes the 2015-2016 transition interesting in the creative corps is a subdued, reflective, sometimes exhausted, and often pensive mood.

A lot of it revolves around marketplace fatigue."
Smashwords founder Mark Coker states in his post "2016 Book Publishing Predictions":
"Many full time indies will quit or scale back production in 2016."
He explains this is due to authors who may have prematurely quit their day jobs and are now facing a much more challenging publishing landscape.
Whether it's the need to write quickly or the sometimes overwhelming job of keeping our books and ourselves visible, writers are facing a lot of stress these days.
I've felt it too. I'm much less stressed out about the writing than I am about the "everything else."  I was reflecting on the past year with a friend and I admitted that a lot of my problem is that I can do (nearly) everything myself.  I can do rudimentary (not cover) design. I can format books. I can update my website. I can create newsletters and schedule updates on social media. I know how to upload to retail platforms, share my calendar, create a slideshow for a lecture.
And, because I know how to do it, because I have the skills, and I've a tendency toward frugality, I do it all myself.
There were a few exceptions.  I hit the wall with my own accounting ability and stopped doing my own taxes a couple of years ago.  I've always had freelancers to help me out with covers, narrating audio books, formatting print and digital books, and editing. Sometimes I need help with my website issues (or just don't have the time to figure out how to fix the issue myself).
I've mentioned in other posts that I'm something of a control freak. I don't think I was always this way, but over the past 5-10 years, it's definitely become more obvious.  I like things done a particular way. To ensure it's done this way, I do it myself.
I'm frequently advised by both writer friends and non-writer friends to outsource some of what I do.  I have been very hesitant to do this.
But, in 2016, I'm going to give it a go.
I made a list of as many different things that I could think of that I do on a regular basis (daily, weekly, monthly, annually).  I kept saying I felt overwhelmed, but I also couldn't completely account for my time or what I was spending it on. Some of the tasks on my list I almost enjoy. Some I dread doing—and the dread frequently isn't equivalent to the size of the task….I dread updating Facebook, for instance. Where are my readers? They're on Facebook.
Some of these tasks overlap. Some take only a minute or two (after I remember to do them). Some can take many hours to complete.  See if this list sounds familiar to you.
Update Amazon Author Central (US and worldwide)
Update my website with new books, new copy, new author photos, new bios.
Update Goodreads books and author info.
Run Goodreads giveaways
Update Facebook
Update Google Plus
Curate and schedule content for Twitter. Collect it and share on the blog.
Blog (3x weekly). Respond to comments. Visit other blogs
Promote my author newsletter
Send newsletters out to readers
Advertise on Facebook.
Respond to reader emails
Create author notes for Amazon and for the backs of my books
Update end matter in my digital books. Keep a copy
Mentor
Respond to guest post requests
Learn new software
Watch webinars for business-related information (promo, learning software like Scrivener, etc.)
Respond to emailed requests for me to beta test software
Connect with and coordinate with editors, formatters, cover designers
Track sales and run promotions
Distribute new books to each platform: ACX, Amazon, Draft2Digital, Smashwords, IngramSpark, CreateSpace, etc.
Update stories weekly on Wattpad
Secure narrator for audiobooks. Listen to finished audiobook for errors. Upload to ACX.
Send promo copies and signed copies to readers.
Participate in Skype/podcast/written interviews. YouTube interviews
Update social media banners
Coordinate speaking engagements
Write guest posts and respond to comments when the post runs
Set up annual headshot and update social media with the new picture
Create PowerPoints for speaking engagements
Count 4 and 5 star reviews on both active series to use in the Editorial Reviews section of my book pages
Write blurbs for other authors
Write cover copy and ad copy
Update series bibles with each book
Pull tax-related items together. Pull year-end things together for accountant.
Organize items on the computer:  Covers in one folder.  Manuscripts in format-specific folders.
Back up. Back up my backups.
Maintain and use Amazon Affiliate links for all my books
Research for books and for promo
Glancing over the list, I realized there are some tasks I would be happy to relinquish doing.  And there are some things that I wouldn't always want to relinquish, but I might if I were overwhelmed with work.
There are author assistants who will work for us on an hourly basis or a per-the-job basis.  Author Assistant Mel Jolly (I met her at the NINC conference where we were both speakers) has a directory of assistants on her Author's Atlas site. I've heard excellent things about Kate Tilton and Authors Write.
I'm planning on starting out slowly with this outsourcing.  An hour here and there. We'll see where it goes from there.  Some weeks I'm so snowed with promo-maintenance-writing-family-life that I'm in dire need of assistance. Some weeks I can handle it all and look for more. But the number of times I'm feeling snowed is definitely increasing with the number of books I write and (perhaps) with any increase in my visibility online.
There are other ways to reduce our workload and stress, if you haven't reached this point. Schedule your social media updates using https://hootsuite.com/ or a similar program. Set up your blog posts to automatically feed to Facebook or Google Plus.  Create an editorial calendar for your blog posts so that you don't waste any time trying to brainstorm. Outline your book, if you're open to it. Create templates for your reader newsletters.
How do you reduce your stress level as a writer? Have you thought about using a virtual assistant?
Tips on reducing stress as a writer:
Click To Tweet
Image: MorgueFile: Hotblack
(Visited 83 times, 1 visits today)