by Elizabeth S. Craig, @elizabethscraig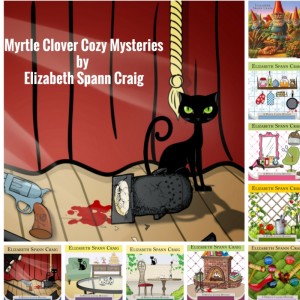 I realized a couple of weeks ago that I'm working on my 20th book.
A lot has changed since book one.  I shopped the first couple of books  to agents and traditional publishers since self-publishing wasn't the great option it is now.   Digital publishing and digital reading hadn't yet exploded on the scene.
Here's some of what I've learned:
Process: 
Outlining helps me write faster.
However, writing from an outline doesn't give me as much job satisfaction as when I make it up as I go along.
Readers sometimes enjoy my subplots better than the main plot. Lesson: don't neglect the subplot.
Self-edit to make my manuscript as error free as I can. Printing it out, converting it to a format I can read on my Kindle, or reading aloud is a good way to get distance from it. This saves me money on my self-published editing.
Editors still read my carefully self-edited manuscripts and find errors big and small.
When writing a mystery, it's important to keep track of all the loose ends and make sure they're carefully tied up at the end. Lists help.
Pomodoro is a great technique to help me write. Particularly if paired with an energetic activity during the break time. Housework, for example. I'm always happy to stop with the housework and pick up with the story again.
Experienced editors can have excellent developmental suggestions. One of mine saved the life of a minor character who ended up being one of the biggest draws of the series.
When writing, it's helpful to have a document with character traits nearby.
The more books that I have in a series, the more meticulous I must be in noting detail in a series bible.
If I get in a rut, I need to immediately analyze what's going on.  What's the problem with the story? Why am I reluctant to write it?
Don't write on a laptop while sitting on a sofa with my feet on the coffee table. Don't do it. I must commit to memory the $500 I paid for physical therapy. Kitchen counter writing is much better for me.
Sometimes the best thing I can do to make faster progress on a story is to change things up: write in longhand, dictate my story, write at the library or at the coffeehouse, or try writing at a different time of day.
I have to be flexible. I have to be able to grab 5 minutes here and there. I have to be able to write anywhere (EXCEPT on the sofa. See above).
My reader reviews on Amazon provide me with feedback that helps me tweak my stories for better commercial success.
Promo and Business:
Free promos work faster and better than anything else I've tried. The cost is merely the cost of lost revenue. I use Smashwords or Draft2Digital to get Amazon to price match.
Newsletters are excellent sales tools. I wish I'd started earlier with them.
Finding a social media platforms that I can tolerate and keep up with is important.
Publishing, marketing, and writing advice isn't one size fits all.  It's good to know the advice, but it doesn't mean I don't have to test it. The standard advice for social media is to interact and to avoid scheduling posts.  I decided not to take that advice for my Twitter account and it's worked out well for me.
Brand under my real name. Don't invest too much time in a pen name.
Go wide. Make my work available on as many platforms as possible, as soon as possible.
Keep a separate bank account for writing-related earnings and expenses.
Keep a database of cover designers, formatters, etc, just in case someone on my team needs to take a break from work for any reason.
Get on the calendar of my designers, formatters, and editors months in advance.
Keep up with industry news to learn of new opportunities and ways to experiment.
It's good to learn how to do everything I outsource. Just in case.
It's good to learn how to outsource.  Being a control freak isn't healthy.
What advice do you have to share?  What kinds of things have you learned?
What 1 writer has learned while writing 20 books:
Click To Tweet
(Visited 69 times, 1 visits today)