by Elizabeth S. Craig, @elizabethscraig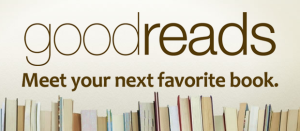 Goodreads is a popular way for readers to discover new authors and talk about books.  As a reader, I've found some excellent recommendations there.  I frequently  hear my friends talk about the site.  And, when I was speaking once at a school, a teacher came up to me afterward and said, "I looked you up while you were speaking. You're even on Goodreads!"
As a writer, I usually avoid Goodreads as much as possible. It's sometimes not a warm and friendly environment for authors.  But then…it's for readers.
My usual tactic in dealing with Goodreads is to avoid logging in until I get a message on the site.  However! This site is important enough for us that we need to do general upkeep and housekeeping there.  And there are some cool features to tempt us in.
Things to check on and update on Goodreads:
Is our series description effective?  Is it the same description that we have listed on our website and retail sites (consistency with metadata can be important for SEO, etc.)
Are all of our books listed under our name?
Are previews enabled on all of our books on Goodreads? If not, we'll want to fix that.  The previews should be right below our books, as they are on Amazon.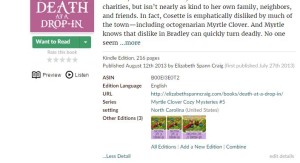 If we've changed covers, have updated editions of our book, have we set the book we want as the primary edition?
If we go into our individual book pages on the site, have we included as much metadata as possible?  Who is listed as our publisher?
What's listed as the official URL of the book (current practice is to have a page for each book on our website. I've listed my site's book page as the official URL).
What's the book's setting?  Who knows, maybe there are readers specifically looking for stories set in a particular location?  Maybe local press may search for authors who write local settings.
Before saving/sending the changes, I made a short note (as one of the site's "librarians") saying I was just adding more information on each book.
Other things we can do on the site: 
Remember that we can make updates on both our author profile on the site (pull up one of your books and click on the name, after you're signed into the site)  and through our author dashboard.  It might be a good idea to do a quick check to see if any updates are needed on either one.
We can add a Goodreads tag to our Facebook page.  This would likely be a smart cross-promo feature.

We can add a Goodreads widget to each individual book page on our website to make it easy for readers to add our books as "to read."
We can enable Goodreads Author Q&A.  I've had some really nice interaction with readers that way.
Goodreads giveaways can be an effective way to get awareness for our books (and, hopefully, to generate some reader reviews).
Goodreads seems to be trying to capitalize a bit on the popularity of images.  There's a feature where we can upload pictures (obviously images that aren't under copyright) that tie into our book…or, I guess, they could be pictures we take of things that inspired us for our book or where we write, etc.
Have a book trailer or an interview on video?  Goodreads is a logical place to upload it.  You can add it right on your author profile page.
Have you mentioned your newsletter signup link in your bio for Goodreads?  This is a good place to do it.
Book Stats: 
One cool thing we can do on our author dashboard is see our book stats for Goodreads.  You can choose the type of graph you'd like to see. I will say that if you have a lot of books, it can look like a bunch of scribble.  If yours looks like scribble (like below), click on "click here for a breakdown" for a list that might make more sense. All I get from the chart below is that people really wanted to read "Body at Bunco" for some reason.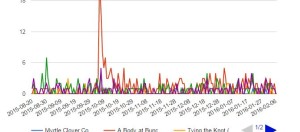 On that stats page, we can also see our total of books added and the total number of unique users adding them.   Plus we can see our total of Goodreads reviews. I apparently have 845 reviews on Goodreads. This is another reminder to me that, despite my reluctance to spend time on the site, it's an important tool, I need to keep my presence there updated.
Are you on Goodreads?  Done any updates there lately?
Tips for making the most of our Goodreads profile:
Click To Tweet
(Visited 170 times, 1 visits today)