by Elizabeth S. Craig, @elizabethscraig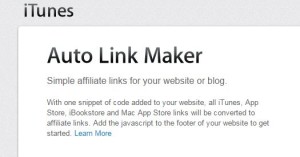 Although I don't make a fortune as an affiliate with Amazon and Apple, so far it's proven to be reliable income.  And it's  fairly passive income.
The only problem is that it's something of a hassle.  You run your links through the retailer's affiliate URL link-maker, it assigns your affiliate code for credit, and then if someone clicks on your link, you make a commission from whatever they buy on the site during that shopping session. I do keep my affiliate links in a document so that I can just copy/paste them without having to run through the link-maker again, but it's still a bit of a time suck.  We also have to be careful to follow the retailers' terms and conditions for use and be sure to put a disclosure on our site when we use these links.
Apple doesn't ordinarily make my business dealings with them easy. I'm definitely not an Apple fan girl.  I find their site difficult to use as an author and am dismayed at the number of readers who have written me telling me they've had a hard time locating my books on their site.  This spurred me to change my website, create dedicated pages for each of my books, and include a direct link to Apple. I also find Apple the most difficult retailer to upload to.  And their royalty reporting reminds me of the reports I get from trad-publishers–inscrutable.
However!  A pleasant surprise from Apple recently.  I discovered that we can embed code in our blog/site's footer section to have all Apple links automatically convert to Apple Affiliate links.
The link-maker is here: https://autolinkmaker.itunes.apple.com/ .  And a detailed walk-through of how to add the code in our footer for WordPress, Blogger,  and Tumblr is here. 
Another cool thing Apple has that Amazon doesn't offer is the ability to attach a geo-prefix to our links so that readers are automatically redirected to their country's Apple retail site.  With Amazon, we have to go through a 3rd-party to have our links automatically open in the correct country (and the 3rd party services I've looked into charge a commission).
The service was briefly explained in my Apple Affiliate newsletter that I recently received (I'm starting to benefit from the fact that I'm now opening these newsletters):
"Affiliate Tip
Ensure your link works globally by adding a geo prefix to the beginning of your link as shown in the example below. You can add this geo prefix manually to your links, or it will be added automatically when you use Link Maker. Having links geo ready ensures links work globally; this is especially important for music where songs and albums may have different iTunes URLs by geo.
Example link: https://geo.itunes.apple.com/us/album/25/id1051394208?app=music&at=1010laH6 " 
My question is….can we get this cool geo feature to work with the auto-link-maker? I haven't fiddled around with it to see, but it would certainly be convenient.
Have you checked into being an affiliate for your retailers? Any cool tips to share?
Apple's tool automatically changes Apple links to Apple Affiliate Links:
Click To Tweet
(Visited 58 times, 1 visits today)