by Elizabeth S. Craig, @elizabethscraig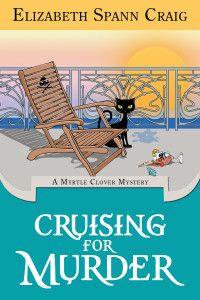 Last year, I decided to try listing a book as a  pre-order. That's to say, I decided to try out a pre-order for my self-published series.  My trad-published books had long been offered for pre-ordering, but that wasn't anything I had any control over.
I remember, years ago, on the trad-published email loops I was on, authors were concerned about pre-ordering. Specifically, they were concerned that the books would ship early, retailers would put them out early, customers would purchase early, and then the pre-orders wouldn't count toward the title's release day. This would mess up their chances with the New York Times list, either extended or short.
I was never very worried about the list.  I don't know anyone who finds their books that way, so to me it seemed like more of an ego thing or maybe a bragging rights thing.
But what I am worried about is confused readers.  And what I can tell you is that my pre-order for a future Myrtle book has resulted in some confused readers.
A bit of important backstory here: I did not put the book up as a pre-order on Amazon.  There are a couple of reasons why I didn't.  Reason #1: The pre-order sales dilute the sales ranking on release day. In other words, Amazon doesn't just allow those sales numbers to accumulate and mark them all toward release day, making the book more visible to customers when it's available.  Instead, they mark each sale toward the ranking that day for the title.  Amazon, naturally, tries to spin this: " Also, pre-orders will contribute toward sales rank and other Kindle Store merchandising even before your book is released, which can help more readers discover your book."
This didn't really appeal to me, although I did read with interest Lindsay Buroker's piece on why she did put a pre-order up on Amazon for her 5th book in the series (one compelling reason was that it helped her show up in the 'also-boughts' section of recommended reads. )  Yes, this is my 10th book in the Myrtle series, so putting it up as a pre-order would make some sense–more so than it would with a book one. But then, there's an extremely important Reason #2: Amazon doesn't have 'asset-less pre-orders' (as of the writing of this post). In other words, you've got to put a manuscript up there. As of right now, not only do I not have a manuscript to put up, I don't even have a fully-fleshed out outline for the book.  I know some folks put up a rough draft or perhaps their grocery list or whatever, but this, again, makes me leery.  The final version, according to Amazon, must be uploaded ten days before publication: "Your final version must be uploaded and republished at least 10 days before the release date you set, with the last day for upload starting at midnight, U.S. Eastern time. For example, if you were releasing a book on September 20, you would need to upload and republish it by 11:59 PM Eastern time on September 9 (4:59 AM UTC the following day)."
First, the good stuff.  I've gotten the word out that there is an upcoming Myrtle Clover book this summer.  Readers have emailed me about it, they recognize the cover, they know it's on the way.  That awareness of the book is there.
But, unfortunately:   This awareness has not translated into sales.  Maybe this is unique to my readers, but they seem to want to buy it when they can read it.  Also, most of my readers are Amazon customers (as is apparent from my sales). The fact that it's not available on this channel is really cutting into potential sales.
Also unfortunately: The fact that it's not available on Amazon means that I'm getting a good number of emails.  I've gotten several that were complaint letters.  I've gotten several that expressed confusion.  I've even gotten one from a concierge on a cruise ship (they have those?) who was completely exasperated by her futile efforts to get this future release for her passenger.
What if I promoted the pre-order, as recommended as a best practice by Mark Coker and others?  That resulted in an uptick of confused emails.
An additional concern:  I'm also a bit worried that some readers, having seen the cover for the upcoming book for such a long time, will think it's an older title that they've already purchased.  If they're newsletter subscribers, I can fix that by announcing the release in August.  If they're not?  They may stay confused.
Would I do this again?  No.  Not the same way I've handled it, at any rate.  I'd either make it a very short pre-order period with a rough draft uploaded on Amazon (still unlikely because I'm not sure the diluted sales figures are worth it, even considering the also-boughts) or else I'd scrap it altogether.  But a long pre-order period (this one stretches from October 2015 to the final August 2016 release… a tactic endorsed by Smashwords' Mark Coker here, slide 264)?  I won't do it again.
But is the same true for you? Not necessarily.  If you decide to pursue pre-orders, there are some excellent resources available. One is Andrew Lowe's post on the ALLi blog: "How to Set-Up Pre-orders for Self-Published eBooks."  One on promoting pre-orders is from Ruth Ann Nordin in "Promoting a Pre-order."  And, if you're interested in pursuing pre-orders on Amazon, Penny Sansevieri's post, "The Best Way for Authors to Use Amazon's Pre-order Feature" will help.
Have you tried pre-orders?  How did it work for you?
An update on a pre-order experiment:
Click To Tweet
(Visited 94 times, 1 visits today)