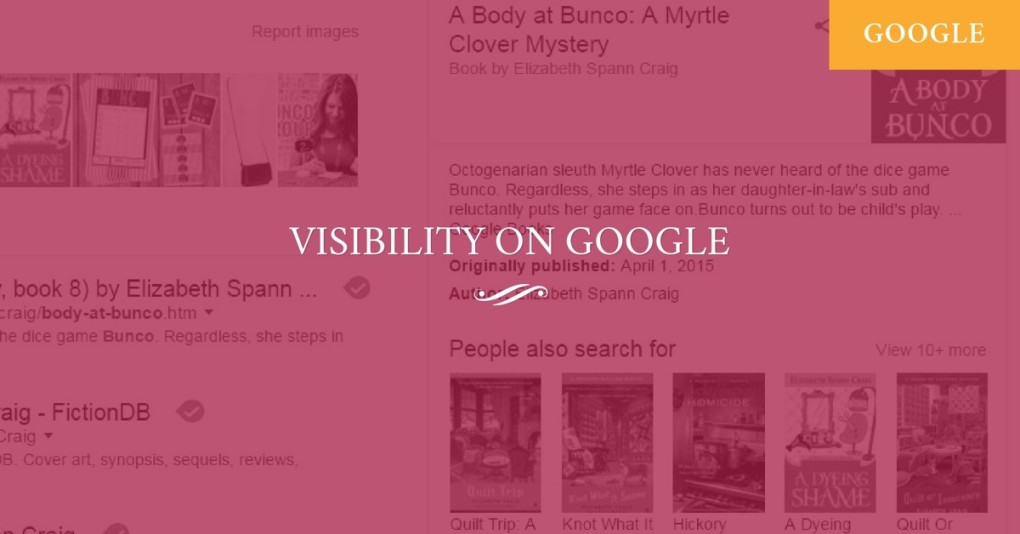 by Elizabeth S. Craig, @elizabethscraig
Today I give you what is likely an incredibly boring post on something I know very little about.  But, because I think it's important, I'm trying to learn more about it and also share my kernel of knowledge on the subject with you. With that disclaimer, let's move on. :)
Much is said by industry observers about the problem of visibility for writers. After all, the number of books is growing and it's harder for readers to find us.
One way that we might be able to give our books a push is in searches.  This can mean making our SEO better on Amazon by tweaking keywords and BISAC.  This may also mean tweaking our sites and individual book pages so that Google can make our book stand out in a search.
This means, in a nutshell,  structured data markup.  This means inserting code/metadata on our site that helps Google understand and organize information to deliver rich results for searches.
Or, if that all sounded like gobbledy-gook (which it sort of did to me and I wrote the sentence), then basically, to deliver something that looks like this when searching for my title Pretty is as Pretty Dies: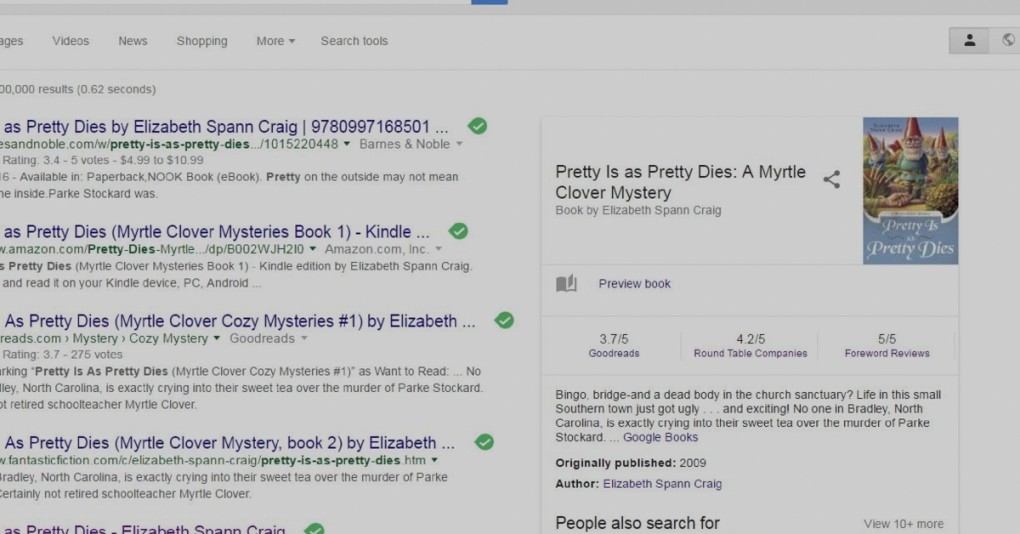 So a reader, when searching for this book title, gets this closeup of my book in their sidebar. It shows them the cover,  my name, gives them the opportunity to preview it, gives a description, publication year, and even links to reviews.  Basically, it gives them a really nice (rich) search result.
To find out more  information on this, read on Google:
A gallery of structured data that produces rich results (of different types…from recipes to products, reviews, and even events).
If you click on one of the types of results on the gallery page, Google shows you the metadata you'll fill in. 
Google's introduction to structured data. 
Let's go back now to what I did, specifically, to make that result show up.   Because this was a traditionally published book and the first in a series that I now self-publish, I started with this book.  I included reviews from Foreword and Kirkus, but it looks to me you could do this with any type of review.
I used a schema creator site to make it easier on me.  The site creates a review schema for you.  You can also do this for any product/book: http://schema-creator.org/product.php  or http://www.microdatagenerator.com/product-schema/ .
After you've received code back, you can test it with Google to make sure it looks accurate .
You paste in the code you were given and it shows you what it will look like: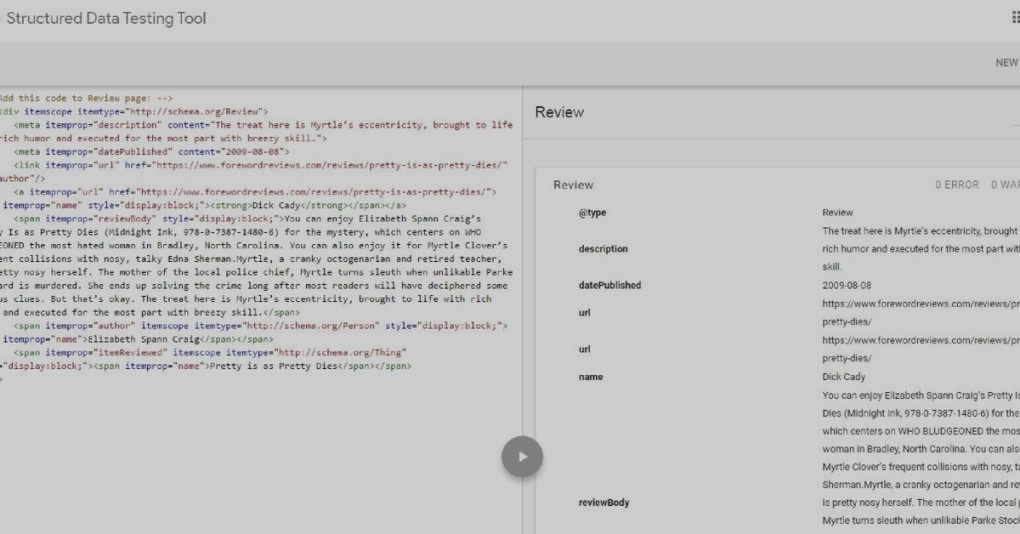 Then you need to put it on the page.  Sometimes I can stick code on a page and it doesn't show up.  This did show up, so I had to find a way to put it on the page without it seeming out of place (could one put this in their header or footer? I didn't experiment for that long).  I pulled up the individual book page, put the page in text composing mode instead of visual composition mode, and pasted the code in.  You can see the result of that here.
I gave Google a little time and it came back with a terrific search result (clearly on Google, not Yahoo search or other engines.  But Google is, currently, the big dog).
When I haven't set up a book page that way, a search for one of my titles comes back like an ordinary search result.
I think, eventually, if our books get enough sales and traffic, Google indexes us anyway.  Like this book of mine: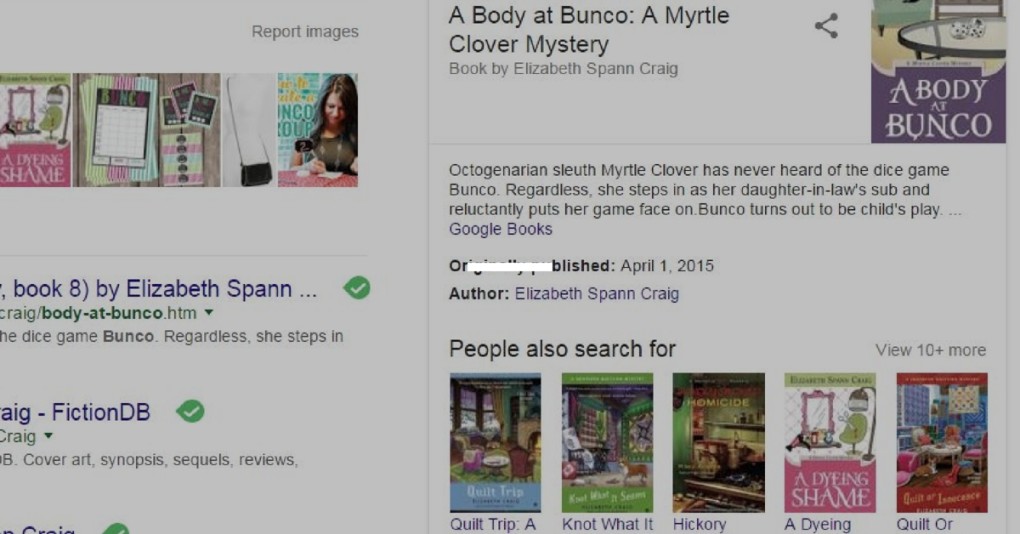 But you'll notice that, unlike the example above, it doesn't have a preview or reviews.  That's because I haven't had the time to set up the schema for the book.
Or this result.  This is a regular search result for my more-recent release, Murder on Opening Night.  No rich result. In fact, it even suggests someone else's book:
This is all I can say and, sadly, all I really know on this topic.  My next steps are to read up more when I can and add this code to all of my book pages for optimal results on Google.
Do you use  a schema on your website?  Do you, hopefully, know a lot more about this topic and can share with us? :)
Tweaks to make our books visible on Google:
Click To Tweet
(Visited 139 times, 1 visits today)