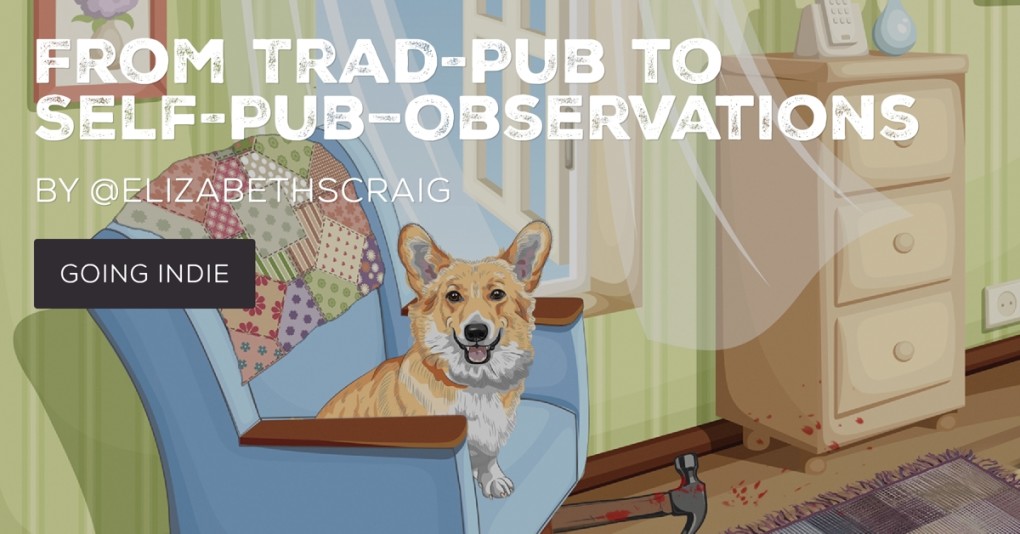 by Elizabeth S. Craig, @elizabethscraig
This is the second time I've gotten the rights to my characters back from a publisher and taken a trad-published series to self-pub.  The last time I did this was five years ago.
There were some big differences between this time and last time.  The first time I'd had only one book released in the series before taking it to self-pub.  This time the series had five books in it.
This latest series had a nice following but I found that many of my readers for the Penguin series  seemed unaware of my self-published series.  They would email me asking when the next Southern Quilting Mystery was coming out and I would tell them…and then ask if they knew about my Myrtle Clover series.  Many times they didn't.
One reason they didn't is because Penguin didn't want any non-Penguin books included in my author bio.  I can understand this.  So not only were my self-published books not included in my bio, the original trad-published book in the series (from Midnight Ink) wasn't, either.
So that's officially my favorite thing about taking this series to self-pub. I loved, loved, loved being able to advertise my self-pubbed series in the back of the book.  I'm hoping for some real crossover from my audience.
And now for the curiosities from this release.   Print sales have been very strong…I've ranked as high as in the top 15,000–18,000 for printed books on Amazon.  It's also selling well through IngramSpark, which tells me that bookstores are ordering it for customers.
The oddest thing about that to me is that the book clearly isn't competitively priced in print–it's running at $10.99, which I think is pretty high.  But when you're doing POD (print on demand) with CreateSpace and Ingram, that's the kind of price you have to set to make a profit.
So…why are the readers buying it?  I suspect that's because these readers always did buy this series in print.  They went to the bookstore and purchased them there.  They want the print edition.
But the book was in mass market paperback size as trad-pub…you just can't get that in POD.  Are they going to ultimately be upset that this book isn't exactly the same size as the other books in the series?  I think it would bother me when I looked at the bookshelf.
The ebook sales have been even stronger than the print.  I suspect this is because I set the ebook price at $4.99.  Other releases in the series are at $7.99.  I'm undercutting my other books and the releases of trad-published cozy writers. I had one reader email me in confusion … why was the new release less expensive than the older ones?  Regardless, it's worked well as a sales strategy.
Takeaways from this and general tips for moving a series to self-pub: 
First off…don't be afraid to ask for your character rights back for your trad-published series.  This is a lucrative decision.
Secondly, price wisely when you're releasing the book to gain visibility in a crowded field.  The POD version isn't going to be priced reasonably, but some readers won't mind.
Use this opportunity to promote your other series, particularly any self-published series or books from other publishers that you weren't allowed to promote previously.
Try to make sure the quality of the writing and production (design, editing, etc.) are as good as you can make them. Readers will hold the book to the same standard of the trad-published books.
Ensure Amazon adds your newest book to their list of the books in the series.  They haven't for me (I just realized it) and that's something I've got to immediately try to fix by contacting Amazon.
Now that you have your rights back, you can fully exploit them.  Consider an audiobook format of the book in the hopes of gaining new readers for the older books…especially if each book in the series reads like a standalone without a continuing arc.  You can even explore translation rights.
Look into putting your book up on IngramSpark so that bookstores are more likely to stock them or order them for customers (bookstores aren't keen about buying from Amazon, for obvious reasons).  Many of our trad-published readers may be accustomed to buying from a bookstore and we want to get those sales.
Although I had a good experience with this series at Penguin, I feel so much more relaxed now that I'm in control of every aspect of its promo and production.
Now over to you.  Any other trad-pub to self-pub converts out there?  Any self-pubbed writers experimenting with IngramSpark?  What do your print sales look like as a percentage of your digital?
Observations and tips on taking a trad-published series to self-pub:
Click To Tweet
(Visited 646 times, 1 visits today)