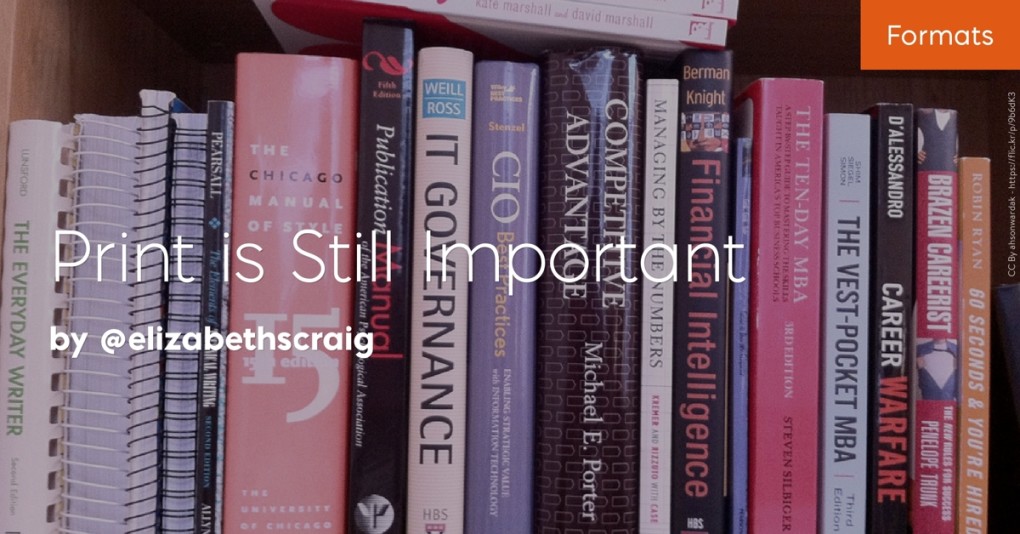 by Elizabeth S. Craig, @elizabethscraig
I've found that, bottom-line, readers are still interested in purchasing and reading books in print.  My print income remains a stable monthly source of revenue.  If there is any lag in putting a new release into print format, I do immediately hear from print-loving readers.  Now I start putting a new release through the uploading process for print (which does take a bit longer to go live) before uploading the digital format to retail sites.  I'd recommend that everyone offer their books in this format.
A little more information about print options and costs:
Options for the self-publishing writer: CreateSpace (Amazon) and IngramSpark
CreateSpace: "We make it simple to distribute your books, music, and video through Internet retail outlets, your own website, and other bookstores, retailers, libraries, and academic institutions. Get started today! CreateSpace is a DBA of On-Demand Publishing LLC, part of the Amazon group of companies."
IngramSpark: "IngramSpark is a new Publish On DemandSM platform. It's an easy-to-use, online publishing tool that provides publishers with simple, cost-effective access to Ingram's global distribution network for print titles and e-book content."
What I'm doing: I've got my print formats in both CreateSpace and Ingram.  I have CreateSpace for US distribution, not expanded distribution (these will all basically be Amazon.com sales of printed books) and Ingram (for US and worldwide bookstores and worldwide book orders…it's cheaper for non-US readers through Ingram than CS because of  cheaper shipping costs).  If a reader asks a bookstore to order my book for them, it will be less expensive for the store and the reader to get it through IngramSpark.
Worldwide distribution: As Giacomo Giammateo wrote for ALLi (you should read this entire article):
"Ingram has an edge on shipping internationally. It is fast, easy, and far less expensive. The reason is simple. Ingram has printing facilities in the UK, AU, and partner agreements in Germany and other countries. I can ship a book to a customer in Australia almost as inexpensively as I can other parts of the US using Ingram. Ingram does charge a $1.50 surcharge per order for shipping though, and CS doesn't."
About those ISBNs:
I recently received an email from a writer who had picked up on part of an issue, but didn't get the full picture.  She believed she shouldn't make her books available through Amazon's CreateSpace because they would be listed as the publisher on record and she'd specifically purchased ISBNs from Bowker so that she could be the publisher on record.
However, there's an option on CreateSpace to list your own ISBNs or to use their free ones. Using their free ones would mean that CreateSpace was listed as the publisher. This also holds true for other formats (for Smashwords, for example, if you use their free ISBNs).
At IngramSpark, there's no choice–you must list your own ISBNs. Be prepared to visit Bowker's site if you choose to go in this direction.  Although…personally speaking…I've purchased my own ISBNs from the very start and feel it's important that my sales are both counted via ISBN and that I have complete ownership in every way of my work.
About costs:
Design costs: You will need to have a PDF of the front and back cover and spine.  You could go back to your original cover designer and provide them with your back cover copy, etc.  You could also (if you have the rights to your design), take the cover image you have to a place like Fiverr to get a full cover.  Author J.P. Medved wrote about his experience there for Lindsay Buroker's blog.  You end up with something that looks like this (this is from my book designer, Karri Klawiter who does all my covers in all formats):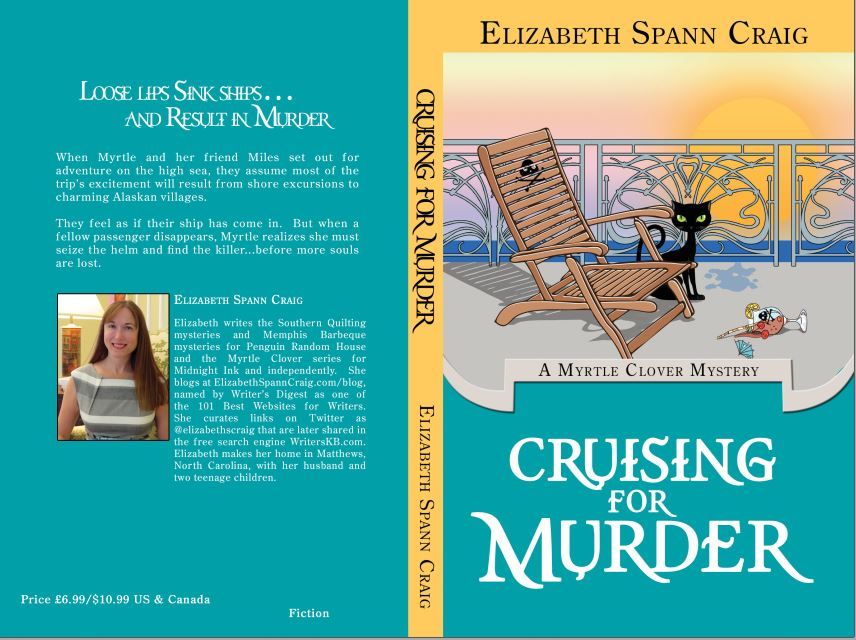 Formatting:  You will need to upload a PDF of your book that matches the print size you've chosen on CreateSpace and/or IngramSpark.  There are formatters who can do this for you, including mine,  Rik Hall.  You could also use a free online conversion service (Reedsy, for instance).  If you use Draft2Digital to distribute your books, you can upload your Word doc to their site and they will allow you to download a PDF).
ISBN:  I buy these in bulk so the cost is minimized. As I mentioned above, you can use the free ISBNs with CreateSpace if cost is prohibitive. If you use IngramSpark, you'll need to add the cost of an ISBN.
Production costs: With CreateSpace, there is no production cost involved.  IngramSpark has a $49 fee for each new title.
Print-on-demand is inventory-free.  Readers or bookstores order books and they are printed as they're ordered.  There are no stacks of books in our garages or closets.  In fact, it's so inventory-free that I would urge everyone to make sure we do actually have a few, fresh copies of our books in case an event pops up so that we don't have to pay for rush delivery for a signing.
Are your books in print?  What service do you use?  Thought on print or anything that I left out?
Options for putting our books in print and costs of doing so:
Click To Tweet
(Visited 271 times, 1 visits today)