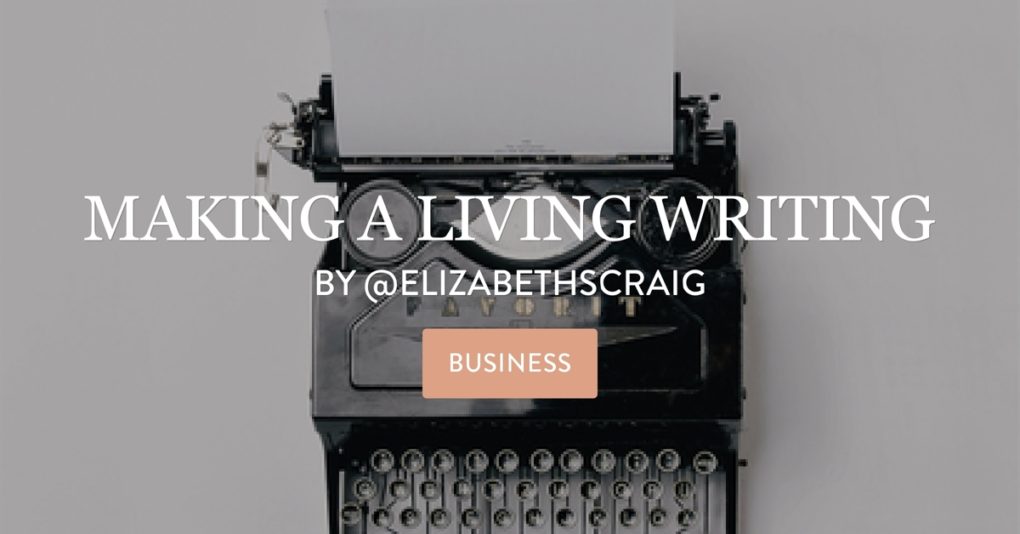 by Elizabeth S. Craig, @elizabethscraig
I used to feel like the sole, income-focused writer in any group I was in.  I was  the one on any panel hesitantly bringing up ways that writers could make money with their writing.
I've noticed now that there are more writers like me out there and I'm more relaxed about being a commercial fiction writer.
I've been asked by parents, college students, and high school students about what degree is needed for becoming a writer.
But that's one of the wonderful things about being a writer. You don't have to have a degree in anything.  I was an English major, but that's as far as I went with it.  When asked for my advice, I ask what type of writing they're wanting to do and what their end-goal/their child's end-goal is.  If the goal is "a career in writing," then I'll go as far as to suggest that they don't go the MFA (Master in Fine Arts) route. They should instead read as much and as widely as they can and start writing.
One common complaint about MFA programs is that writers aren't trained in the business of writing or on writing for a market (as explained by writer Yi Shun Lai in "We Need to Talk About Money: Practicality's Place in a Writing Education".)
Writers at the start of their careers should ask themselves: am I writing to please myself or am I writing to appeal to a broader market?My kids are older and if I didn't make a living at this, I'd be getting a day-job.  Writing  is my full-time job.  I'm not making a ton, but I'm making more than if I taught school and more than I'd make at any other job; I've been out of the traditional workforce since my first child was born in 1997.
I do have 22 books on the market.  This obviously helps.
Tips for making a (modest)  living writing
It's better, in the current environment, to self-pub instead of trad-pub (most of the time).  I experienced first-hand  cutbacks that publishers are employing to save costs.  When I started out, 3-book deals were the norm at Penguin.  That unfortunately changed.  The merger between Penguin and Random House meant a layoff for my editor. Now there are many stories about how difficult it is getting to break into the industry and the market. It's obviously still possible to do so…but at what cost?  I made and make a good deal more from my self-published books than my traditionally published books.
Write for the market–modified. I got lucky in this sense because cozy mysteries became popular with the public around the time that I became interested in writing them.  I love cozy mysteries and I love the books that I write.  What's selling well in a genre that you enjoy reading?  I can't recommend that you write in a genre you're not very familiar with or that you wouldn't enjoy writing. There are standards/norms/tropes in genres that readers expect and are looking for.  They provide a blueprint for your book and for a better chance at success.  Writers should read as much as possible in their chosen genre and absorb as much as they can to learn about pacing, character development, action, dialogue,  and story arc.
Write series.  Series are currently more popular with readers.  I'm wondering if it's because readers, once they've spent the time investing in the story world and characters, want to read more in that same story world.  Lucky for us–because series are easier and quicker to write for the same reasons: the story world is established, as well as the story's recurring characters (descriptions, traits).  Most of the work is already done.
Write more than one book a year, if possible. Work smarter, not harder when it comes to the writing process.  If you're not an outliner, see if you can at least come up with one sentence at the end of your writing day to give you a plan for the next morning.  What, basically, do you want to accomplish in the next session?  One sentence can give you much-needed focus the following day and help you write faster.
Again, work smarter, not harder when it comes to marketing.  Instead of knocking yourself out with marketing, focus instead on increasing visibility through tweaks of keywords and other metadata. Include links to your other books in your back matter.  Have a newsletter signup link in your email tagline, your website sidebar, and in the backs of your books (MailChimp is free for up to 2,000 subscribers). Whenever you have a new release, send out a newsletter to inform your readers.
Make sure your books are available to people in a variety of formats including online retailers,  audio, and print (CreateSpace and Ingram (for international audiences and bookstores).
Consider other ways to generate income from your writing.  Create a Patreon page for tips from readers (read this excellent article from author John G. Hartness).  Consider public speaking and publish a page on your website indicating that you do speak to groups (for a fee).  Author Joanna Penn outlines other ideas for multiple income streams in her post "Write Books You Love. Think Global. Consider Multiple Streams of Income."
This approach isn't for every writer and shouldn't be for every writer.  Some writers write purely for the love of writing and write to please themselves and those closest to them. Some write only for the love of producing art.  Sometimes those writers still have an amazing career that supports them financially.
What other tips would you include here for writers interested in writing for a living?
Tips for making a living as a writer:
Click To Tweet
(Visited 2,322 times, 1 visits today)