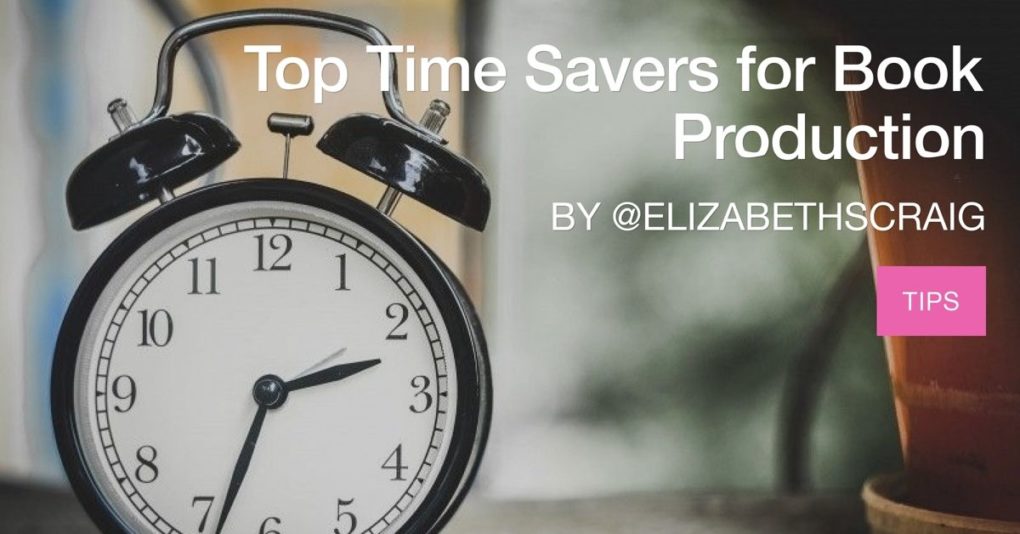 by Elizabeth S. Craig, @elizabethscraig
This is the third post in my series on how writers can save time.  You can find the first post here (on social media), and the second post here (on saving time writing).
If you plan on having only a single book or just a couple of books, you probably can just skip the information I'm sharing today. This is more for those of us who have either multiple series or many books or both. It's the nitty-gritty of book production–the tedious inputting of data into the retail and distributor sites.
By keeping track of the data we use over and over again, we can not only make our process go a lot quicker, we can also make sure it's consistent. Although it does take some time to compile these lists, sometimes we have to spend time to save it.
Here are some examples:
Backmatter:  It's the stuff that goes in the back of every book. For a while I was creating backmatter for each book separately and losing tons of time in the process. Now I've got a formatted backmatter section saved and ready to go. It includes my 'about the author,' a newsletter signup pitch, 'other works,' where to connect with me, a thank-you/please review,  and book extras.  This is just the standard content I put in the backs of every book. For some books, I'll also add an author's note specific to the writing of that particular book..but at least I've already got the backmatter written.
You may also want to have one book list for Amazon (using Amazon links–and I understand that they don't allow affiliate links in the backmatter) and one for everyone else (and linked to each book page on your website).
Metadata:  It's very important that we keep metadata consistent, for better search engine optimization. It's there to help readers find our books and if we're inconsistent in our metadata, the search engines don't realize we're talking about the same term (is the series 'A Nancy Drew Mystery'? Or 'The Nancy Drew Mysteries'? Or 'Nancy Drew Mysteries'?)  Keeping track of all the metadata we use is a quick way to make sure we're keeping our metadata the same across the board.  This post from last year lists some helpful tools to help track metadata (and what we should be tracking).
ISBNs: If you use them, you'll want to keep track of which book format has what ISBN. This tends to come up repeatedly and each time I would be pulling up Bowker to see what the ISBN for a Kindle format book written years ago was. It's much easier to keep the information in a spreadsheet or a list. Joel Friedlander offers a free ISBN Logbook. 
Keywords:  This is not to say that we shouldn't keep testing and tweaking our keywords. But if you publish multiple books a year in a variety of formats at various retailers and distributors, having a keyword list handy can save a tremendous amount of time.
Covers:  This may seem like an odd tip, but get them in advance.  If your designer is popular, get them way in advance.  Otherwise, you may end up delaying publication of your book until your designer can work you in. I usually have my covers made for me several books ahead.
Distributors:  I wrote an entire post on this recently. It's important that we keep track of which aggregator (Smashwords, Draft2Digital, PublishDrive, StreetLib, etc.) is distributing what title where (Overdrive, Google Play, Apple, Nook, etc.).  Otherwise we end up with duplicate listings at retail sites.
Newsletter template on MailChimp:  It took me a while to come up with a newsletter design that I liked. Once I did, I saved it as a template on MailChimp. Now, whenever I send out a newsletter, I just rearrange and edit parts of the body of the template. It's saved me a tremendous amount of time and gives my newsletters a consistent look.
What have I missed? What kinds of things do you do to save time with book production?
Top time savers for book production:
Click To Tweet
(Visited 242 times, 1 visits today)