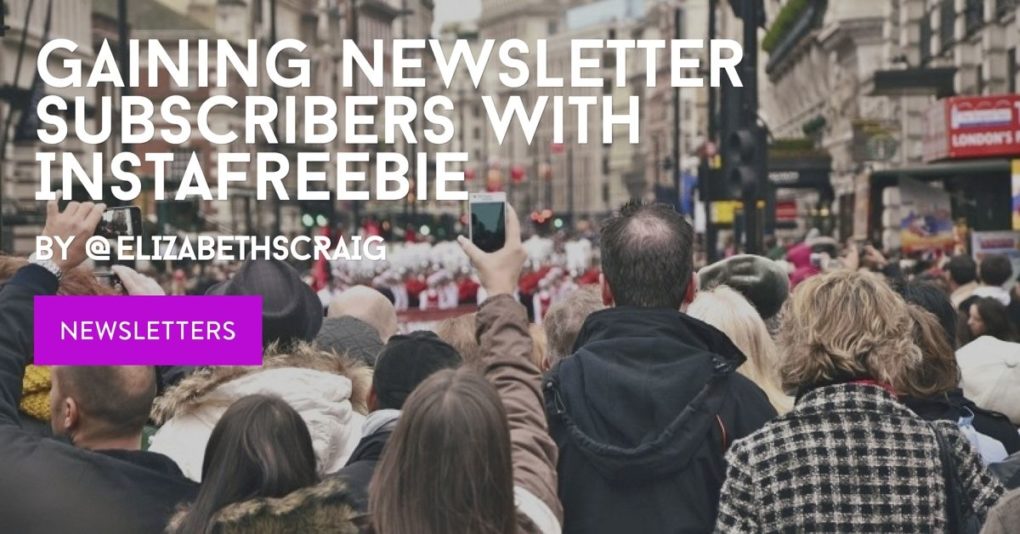 by Elizabeth S. Craig, @elizabethscraig 
I've been using InstaFreebie since July of last year, but my use was limited to a convenient method of distributing free ebooks to readers or reviewers (and having InstaFreebie's support to assist readers with any problems).
A short while afterward, I started using InstaFreebie as part of organized multi-author giveaways (there was an author assistant for a group of cozy writers who set it up).  I was in a couple of those and my mailing list grew to the point where I needed to get a paid account with MailChimp.
After reading numerous posts on how InstaFreebie was helpful, long-term, for growing a newsletter list, I decided to alter my approach on the account. I'm not one of those who likes to send out lots of emails to my newsletter list, so I decided to use InstaFreebie as more of a discovery tool. (And I'd like to note that I'm not affiliated with InstaFreebie in any way.)
I started their 30-day free trial, integrated InstaFreebie to my MailChimp list (they provide directions on how to do this).  Then I promptly forgot about it.
Despite forgetting about it, I was steadily making gains to my list.  I logged into InstaFreebie shortly before the end of my free trial for a totally different reason (to send a free book to a reader who was having technical issues with my newsletter signup) and discovered to my surprise that I had gained 82 new subscribers without having promoted the giveaway whatsoever. Or even remembering that I had a giveaway to begin with.
Pros that I found:
Crossover between series.  I deliberately picked a book from my quilting mystery series since I wanted to grow the crossover from my Myrtle series to my quilting series. Previously I'd noticed readers were loyal to my Myrtle series and reluctant to try something new. I'll do the same for my Myrtle series next.
Better than running ads. Advertising on Facebook is complex and, for best results, requires lots of checkins and tweaking. Here I just left a giveaway completely open and gained new subscribers daily.
My unsubscribes and bounces were low.  I had no unsubscribes, even though I happened to have a release come out during the free trial period and sent an email out regarding it.
I didn't have to bug anyone on my list. Writers frequently fuss at me over this one, but I simply hate sending newsletters. I really, really do. I try to limit sending newsletters to my releases (which are several times a year).
All of the above findings were great. However! This is not the best way to utilize InstaFreebie.  The site is more likely to feature you/your giveaways if they see you're tagging them on social media, for instance.  As I will do when I tweet this post. And those multi-author giveaways/cross promotions can result in hundreds of additional names on your list instead of daily small gains. But for the purposes of this post and any other reluctant newsletter-senders, I'd like to point out that we can use InstaFreebie completely passively, too. Is this a best practice? No. Does it still work? It has for me so far.
Pricing
If you want to use InstaFreebie as I originally did (as a tool to distribute free books to readers and reviewers…with support), you could just use the free plan.
If you're wanting to use the site to increase the number of your newsletter subscribers, you will need a paid plan.  I'd recommend trying it for 30 days free and see what you think. Then you can upgrade or pass.
Here are the details of the various pricing plans available.  Right now, I'm on the plus plan, but I have a reminder on my calendar to check back and see if the subscriber numbers are worth it.
How do you gain newsletter subscribers? Have you tried InstaFreebie?
Using InstaFreebie to Gain Newsletter Subscribers:
Click To Tweet
Photo via VisualHunt.com
(Visited 600 times, 1 visits today)