by Elizabeth S. Craig, @elizabethscraig
When I was first signing a book contract in 2008, I remember that the industry generally scoffed at writers worried about copyright issues. Some writers wondered if they should register a copyright on their manuscripts before submitting them to agents and publishers. There was even a line of thinking that authors could simply mail their manuscripts to themselves to acquire a 'poor man's copyright' through the postal service.
Acquiring a copyright to send work to a reputable agent or publisher was probably overkill. But the problem now is more insidious: there are cases where retailers like Amazon have challenged writers to prove a book's content is theirs after receiving challenges from unscrupulous writers.
I'd been meaning to copyright my books for some time, but it became a higher priority after the copyright challenges became news. And I hopped right over to the US Copyright site after reading a post on Joanna Penn's blog: an interview with attorney Kathryn Goldman. I recommend you read or listen to the entire post.
One of the things Kathryn Goldman brought up in the interview is that the US Copyright is a better deal than one in the UK, for instance. It's $35 for a copyright in the US for the life of the copyright (a one-time fee). In the UK, it's £65 for 5 years. According to Goldman, "if you have a registration in the United States and your country is a signatory to the Berne Convention, then you're entitled to the protections that that country offers based on the U.S. registration." That's important information for international writers.
I found the copyright registration process easy, if not intuitive. I'll go one step further: the US Copyright site reminds me of early websites in the late 1990s. It's not a modern site, y'all. But once I got the hang of it, I zipped through quickly. I registered 11 books in probably 45 minutes time (and for a total cost of $385).
Since the site isn't intuitive, I thought I'd walk you through my process on it. I'm a novelist without a coauthor for those who don't regularly follow my blog.
I started at the Copyright site (the first page isn't so bad, but just wait) and chose 'literary works'. If you want the definition, they list it as "a wide variety of works such as fiction, nonfiction, poetry, textbooks, reference works, directories, catalogs, advertising copy, compilations of information, computer programs and databases."
You'll need to create a user name and login.
Choose 'register a new claim' in the left sidebar.
Answer yes or no…for me, they were all yes. If you had a coauthor or were part of an anthology, your answers would be different. And I did register each work separately–I didn't attempt to register an entire series under one copyright because my understanding from writer forums is that that wouldn't work.
A pop up box pops up and you indicate you've read it and your book is eligible (give it a look-over to make sure it is).
Type of work: literary work
Check the box below.
Note: Keep hitting 'continue' at the top of the page or else you might accidently click 'change application' at the bottom of the page. As I mentioned earlier…the site is not intuitive.
Type in your title.
Mark if the book has already been published (mine all had…this is not a problem).
Indicate the nation of first publication, the year you wrote it, and the date it was published. Note: they want the month, date, and year (look it up on Amazon if you don't remember). If you don't put it in the MM/DD/YYYY format, it will kick you back to the previous screen with no explanation whatsoever. It took me a while to figure out what I was doing wrong.
List your author information: name, citizenship, and what part of the book you were responsible for (for me, this was limited to text. I didn't design my own cover). There's a spot for pen names here, too.
Add your address (we're the claimant).
Limit your claim if it applies (it didn't for me).
Provide contact information for anyone who wants permission to use your work (the 'add me' tab at the top is a shortcut and will fill in the information you listed previously).
Add your info in case the copyright office needs to contact you with questions (or use the wonderful 'add me' tab).
Add your name and info for the copyright certificate to be mailed to.
I skipped paying for special handling, but if you're being challenged on your copyright of your work, this is an option to expedite matters. They claimed the process could take as long as 10 months…I certainly hope it doesn't. I'm hoping it's like the passport office…they always say it will take longer than it actually does.
Check the box and add your name to 'sign' the document.
Review your submission and then add it to the cart.
To repeat the process and add more books, click 'add more services'. Otherwise, you can check out.
You can pay via bank draft or credit card.
Here's the pain in the neck part for anyone who has printed versions of their books…you must mail them a hard copy (I sent them published books I had on hand).
If your books are only available in digital format or if the books are unpublished, you can submit files electronically. Here is the full list of requirements for sending a digital file:
"When is an electronic copy acceptable?

An electronic copy of the work being registered may be uploaded directly into eCO if it is within one of the following categories:

• Unpublished work

• Work published only electronically

• Published work for which the deposit requirement is identifying material

• Published work for which there are special agreements requiring a hard-copy deposit to be sent separately to the Library of Congress

For works where a hard-copy is required, you can still submit an application and payment by eCO and send copies of your work to the Copyright Office by the U.S. Postal Service or express courier."
But don't send them an epub or mobi file! They take:
.doc (Microsoft Word Document)
.docx (Microsoft Word Open XML Document)
.htm, .html (HyperText Markup Language)
.pdf (Portable Document Format)
.rtf (Rich Text Document)
.txt (Text File)
.wpd (WordPerfect Document)
.wps (Microsoft Works Word Processor Document)
As I mentioned, I had to send them printed books…my books didn't meet any of the requirements for electronic submission. Before my next book comes out, you better believe I'm submitting it digitally.
At the bottom of the page, there's a section for printing shipping slips. I clicked it and then clicked on the link they provided after they'd prepared the slips. We're supposed to put one slip with each book (I attached them with rubber bands to the books) and then mail them to the address at the bottom of the slips.
We can check on the progress of our registration claim on their homepage in the 'open cases' link to the left.
Is it convoluted? Yes. Is it a pain? Most definitely.
But it's not particularly expensive, especially considering the cost of everything else book-related.
Have you registered the copyright for your books?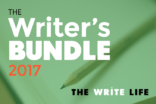 I also wanted to let my blog readers know about a special offer (and I'm an affiliate for it). It's called The Writer's Bundle. The Write Life, a website for writers, is offering a deal this week only (starting today at 6 a.m. ET): a package they call The Writer's Bundle.They've bundled together 10 ebooks, courses and tools on freelancing, novel writing, self-publishing, marketing, editing and more. Purchased separately, they'd cost nearly $1,700. But for the next four days, The Write Live is offering the entire package for just $99. Click here for more information or to download the bundle.
How and why to copyright our books:
Click To Tweet
Photo credit: The Library of Congress via Visualhunt / No known copyright restrictions
(Visited 293 times, 1 visits today)