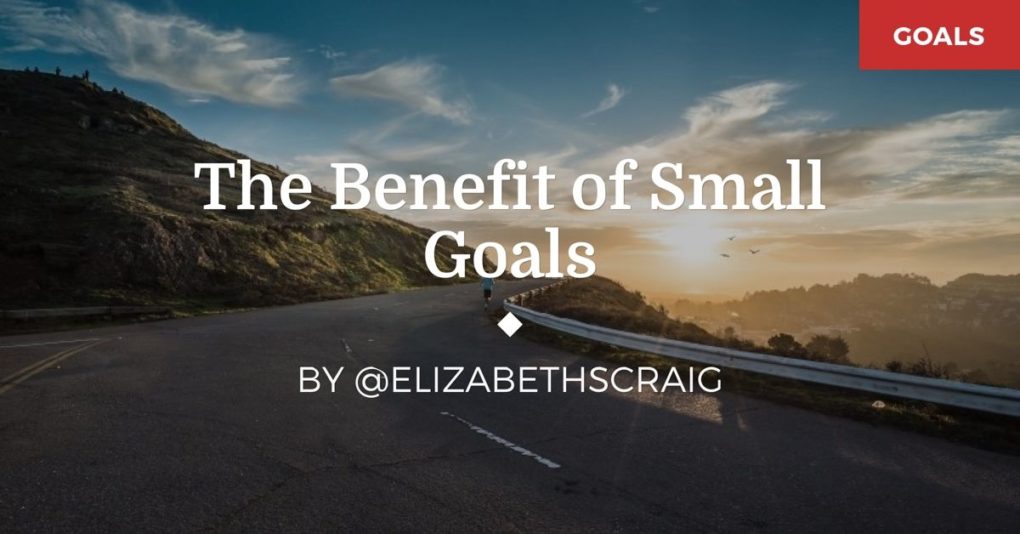 by Elizabeth Spann Craig, @elizabethscraig 
I read an interesting article recently, "What Setting Small Goals is Costing You,"  from author and publisher Michael Hyatt.  I think it interested me because it had such a radically-different point of view from mine. But it was onethat gave me food for thought.
In it, he said:
"Setting small, unchallenging goals is one of the five blunders I cover. I call it "sailing too close to shore." We tend to set small goals because we're unaware of our own inherent fear of loss. We don't want to risk much. But there's a direct correlation between low risk and low achievement. The greatest achievements are waiting on the other side of discomfort."
He gave a couple of pretty compelling examples to support his position.
I could see where he was coming from.  But for me, it's totally the opposite.
For me, slow and steady wins the race.  I've had 25 books published, but this has been over nine years.  I set small goals that I can easily achieve. These small goals have made it possible for me to build a daily habit of writing and have helped to keep me motivated over the long-haul.
When I was first starting out and seriously writing, I purposefully set my writing goal as low as I could.  I had a toddler in the house and a kindergartener. I set a goal of writing for 5-15 minutes a day.  In less than a year, I had a book.
Knowing that I could accomplish my goals under challenging circumstances gave me confidence in my ability to push through, just like finishing a project (as opposed to stalling out or starting a completely different manuscript) gave me confidence in following through and trusting my ability to deliver.
But back to Michael Hyatt's point of view. He does make some good points. For me, though, I think I'll incorporate them differently.  It is important to stretch oneself.  But I'd rather that be a weekly extra goal instead of a daily challenging goal.  Since I nearly always hit my daily goal, maybe that is an indication that I need to re-evaluate how much I'm expecting of myself.
But let's face it.  Some days just stink from start to finish.  The kids are sick, the dog needs to go to the vet, you thought there was chicken in the freezer, but there wasn't.  I think on days like those, it's best to still hit our usual goal, maintain our habit, and not feel disappointed in our performance.
What kinds of goals do you set?  Do you stretch yourself or set small, attainable goals?
The benefits of small, attainable goals:
Click To Tweet
Photo on VisualHunt